Wildwinds Alacritous Picayune Diablo - "Bella"
We are extremely proud to announce a new addition to Wildwind British Labradors.
"Bella"
Bella is the newest additional to our breeding program. We couldn't be happier to have her. Bella is just a little sweetheart. and I mean both those words literally. Bella weigh's in at 46lbs. She is absolutely tenacious in the field, but yet like's to cuddle as well. Despite her size, she may be our most fearless, fastest female. Her Registered name is a mouthful. Translation means; Fast Little Devil. Which fit's her perfectly. As mentioned earlier, she is a sweetheart. But, she does have a little bit of a devilish side as well at time's. Which I actually like.
Bella's Sire is FTCh Rockhart Voyager - "Sam". Sam was Imported from Ireland in 2009. Bella's Grandsire is 3X Int.FTCh Myreton Diablo of Glenloch. Diablo has been one of the top, most consistent Field trial dogs in recent years, and is still going strong. There is only one Int. FTCh each year. So, to win it three time's is pretty unbelievable.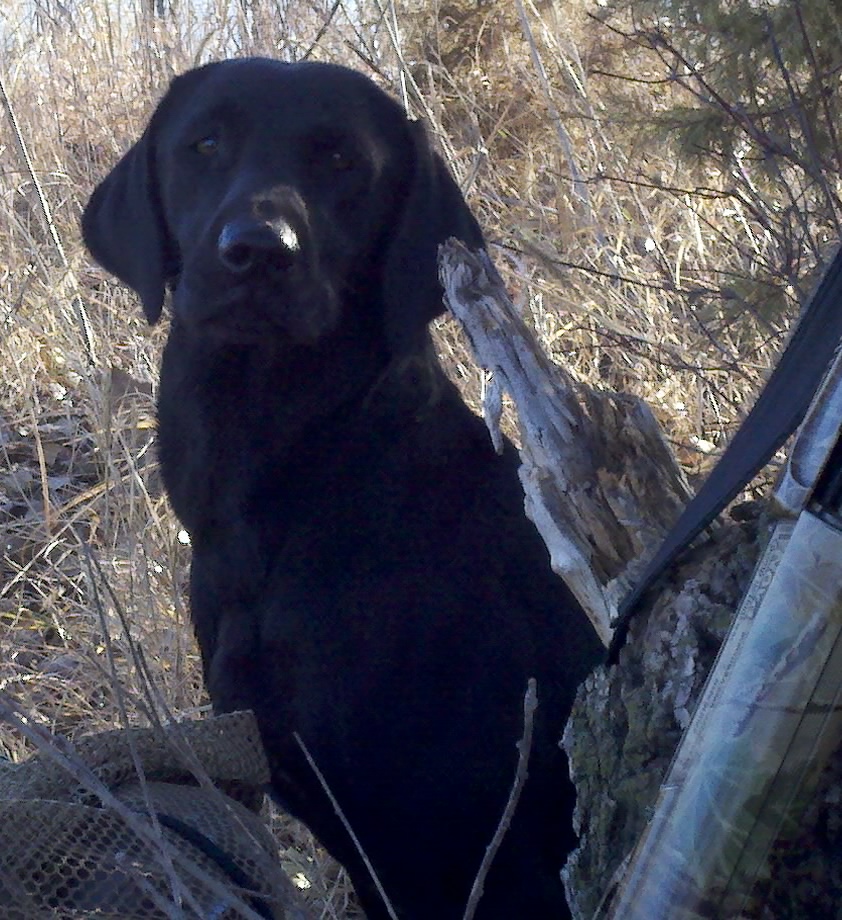 Bella's confirmation is excellent, with a very attractive square head, broad chest, and extremely muscular feature's, making her an excellent example of a properly bred British Field lab. Bella is a very well behaved, true Lady, with a nice thick coat, and the classic "otter tail". Her weight is 46 lbs. Bella's drive is as hard on blinds, as it is on marks, over land or water. Its hard to believe that a retriever with this much drive can turn it off. But, Bella can. She is just a sweetheart around the house, due to her quiet, calm temperament, and petite size. A perfect combination. Making her a great companion that is truely as "Enjoyable in the home, as she is in the field..."
Bella is an excellent game finder, and a pleasure handle, and watch work. Her speed is truely impressive.
Bella's parents have both received a Normal/Clear PRA result from Optigen. Meaning, Bella herself is clear.
SR63226707
Eye Cerf. Normal
Optigen - PRA-Normal/Clear
Hips OFA - Good #LR-199878G27F-VPI
Elbows OFA - Normal #LR-EL56208F27-VPI
Weight - 46lbs.

Sire
FTCh Rockenhart Voyager
YLW

Sire
Int. FTCh Rozel Rocket of Tasco
Winner of 1997 British Retriever Championship

Sire
FTCh Pocklea Remus
Dam
FTW Tasco Glow

Dam
sallyfort Hazel


Sire
Killerisk Copper
Dam
Thusillagh Sally
Dam
Dublem Lucy(IKC)
BLK

Sire
3xInt.FTCh Myreton
Diablo of Glenloch
BLK

Sire
FTCh Baildonian Baron of Craighorn
3rd Place finish 1997 British Retriever Championship

Dam
FTW Craighorn Tillie
Dam
Islandmore Miss of Maighmor(IKC)
YLW

Sire
of Glenloch
BLK

Dam
Rough Tom Boy
YLW