Wildwind Charlie of Wildrose - "Charlie"
Charlie is a wonderful combination of her parents, our Cody, and Emma, and their high powered field trial ancestry. In Charlie's 120 dog pedigree, there are 80 FTCh/FTW, including 20 dogs with International Field Champion Awards.
One would be hard pressed to fine more awards in as extensive a pedigree as this, in any other dog.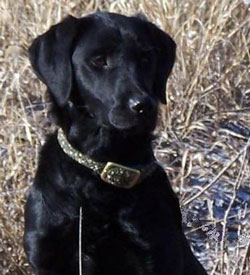 Charlie is exactly what we are trying to produce at Wildwind British Labradors, a fine, properly bred British Lab. She has a wonderful, calm, quiet temperament, very intelligent, makes great eye contact, and has an extremely strong desire to please.
Charlie is 53 lbs. and just like her mother in just about every way. She has just as much of a desire to hunt waterfowl as upland game. Her water entry is spectacular, and extremely powerful. She will go from sitting calm and quite, to exploding when sent.
Charlie's confirmation is excellent, with a blocky, square head. Defined stop, broad muzzle, flat ears, sleek muscular body, with a thick shiny coat, and classic thick "otter tail".
Charlie carries a Yellow factor.
D.O.B. 4-22-2006 52 pounds
AKC Reg. No. SR02876810
UKC Reg. No. R178-838
Eye CERF. - Normal #LR-44375
Optigen - PRA - Normal/Clear #08-1836
Hips OFA - Good #LR-156337G30F-Pl

Sire
Wildrose Irish Spring Cody
YLW


Sire
FTCh Shortthorn Tommy of Leadburn
YLW
Sire
FTCh Dargadaffin Dynamo
Dam
FTW Bringwood Becky

Dam
Raughlin Chris of Astraglen
YLW
Imported in 2002
Sire
FTCh Baildonian Baron of Craighorn
3rd Place finish 1997 British Retriever Championship
Dam
FTCh Raughlin Sarah
Dam
Wildrose I Emma Toe Short
BLK

Sire
FTCh Edenlabs Angus
BLK
Imported in 2000

Sire
FTW Ashbrook Alfie
Dam
Ulstare Wren
Dam
Astraglen Allie
BLK
Imported in 2002
Sire
Internation FTCh Garendon Captain
WINNER 1998 British International Championship
Dam
FTW Glendriar Carolhill Astra
Certificate of Merit 1997 Irish International Championship