TTF MNM'S Ruby Red Storm - "Chloe"
Chloe brings a new dimension to our Kennel. Whereas all of our other dogs have extremely powerful, and impressive field trial lines in their pedigree's, Chloe comes from a serious British hunting / hunt test background. Chloe came to us through Double TT British Labradors, which was located in Mississippi at the time. Her parents were both from imported lines, and were used as guide dogs for a commercial hunting operation Double TT was affiliated with in Minnesota, through the fall, and winter months.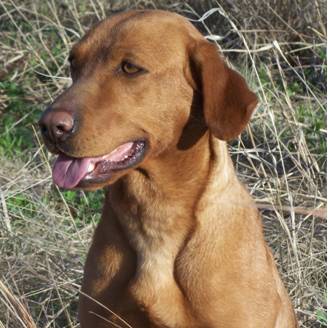 They would be used on Pheasant hunts to quarter, flush and retrieve thousand of Pheasants every season. These dogs will go all day, every day of the season. They were also used on guided duck hunt's on the potholes around the area, retrieving hundreds of ducks every year under every possible condition and scenario.
Chloe is a real sweetheart, but yet has a little bit of playful quality about her. Its just part of her fun personality which makes her a joy to be around.
Chloe has a wonderful, calm, quiet temperament, very intelligent, makes great eye contact, and has an extremely strong desire to please.
Chloe is a nice size. 50 lbs. She may seem small to some, more familiar with large American labs. She doesn't take up much room in the truck, blind, boat or home. Her small size has never deterred her form coming back with the prize, be it a pheasant, from the deepest, thickest prairie grass, or pulling a crippled duck out of cattails.
One of the most notable characteristic of Chloe is probably her coat color. She is a yellow with a very, very deep, dark fox Red Coloring. That is the first thing people say when the see her . "Wow, that color is beautiful." its definitely different, especially in a pure bred British dog.
Chloe's has good confirmation, with a square head. Defined stop, flat ears, sleek muscular body, with a thick shiny coat, and classic thick "otter tail".
Chloe-Fox Red
D.O.B. 4-20-2005
50 pounds
AKC Reg. No. SR02876805
UKC Reg. No. R178-838
Eye CERF. - Normal #LR-44375
Hips OFA - Excellant #LR-156337G39F-Pl

Sire
Paddington October Red Storm SH
YLW (Fox Red)

Sire
Paddington's Amber Maxwell
Sire
Paddington of Wildrose
Dam
Amber of Hambrook

Dam
Winbrook's Bronze Maggan
Sire
Bonzer Dandy
Dam
Angus' Golden Heather
Dam
Dargdaffin Red Sunlight
YLW (Fox Red)

Sire
Dargdaffin Red Nick

Sire
Dargdaffin Digger of Birchams
Dam
Wildrose Kate II
Dam
Crissella Sunlight
Sire
Crisella Mustard
Dam
Massingham Anita