WILDROSE I EMMA TOE SHORT - "EMMA"
Emma recently underwent the prcd Mutation test for PRA, and has received a Normal/Clear result from Optigen. This is outstanding news for us at Wildwind, and for all of Emma's pup's.
Emma is just a sweetheart. You may never guess she has such a high powered field trial ancestry behind her.
In Emma's 64 dog pedigree, there are 48 FTCh/FTW, including 9 dogs with International Field Champion Awards. Emma is what I would consider a fine, properly bred British Lab. She has a wonderful, calm, quiet temperament, very intelligent, makes great eye contact, and has an extremely strong desire to please.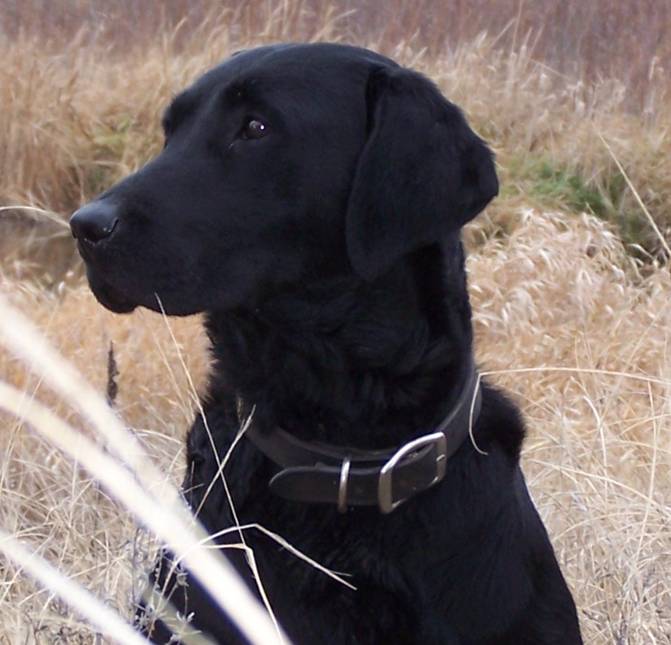 Emma is a nice size. 52 lbs. She may seem small to some, more familiar with large American labs. She doesn't take up much room in the truck, blind, boat or home. Her small size has never deterred her form coming back with the game, be it a pheasant, from the thickest cover, or pulling a crippled duck out of reeds. Emma's sire is FTCh Edenlab Angus. "Angus" was imported in 2000, and is a very stately looking black lab. He is one of the best looking labs I have seen in a long time. His weight is 64lbs. and he has a very pleasing, calm, quiet temperament. Angus is considered to be one of the finest lining English labs around. Emma's mom is Astraglen Allie. "Allie" was imported in 2002. Her weight is 54lbs. Her sire FTCh Garendon Captain, received 1st Place in the 1998 British Championship. Her mom is FTW Glendiar Carolhill Astra. Astra received awards in the 1997 Irish Championship. Emma's confirmation is excellent, with a blocky, square head. Defined stop, broad muzzle, flat ears, sleek muscular body, with a thick shiny coat, and classic thick "otter tail".
Emma -
8/19/2001 - 7/26/2011


Sire
FTCh Edenlabs Angus
BLK
Imported in 2000
Sire
FTW Ashbrook Alfie
Sire
FTCh Swingbrook Twig
Dam
FTW Ann of Cleary
Daughter of Leacross Rinkals WINNER 1979 Irish International Championship

Dam
Ulstare Wren
Sire
FTCh Palgrave Quinn
Dam
Roxy of Ulstare
Daughter of Broadville Adam 3rd place finisher British International Championship
Dam
Astraglen Allie
BLK
Imported in 2002

Sire
International FTCh Garendon Captain WINNER 1998 British International Championship

Sire
FTCh Swinbrook Twig
Dam
FTCh Munro Tess
Dam
FTW Glendriar Carolhill Astra Certificate of Merit 1997 Irish International Championship
Sire
FTCh Glenbriar Dare
Dam
Glenbriar Annie
Daughter of Glenbriar Skippy WINNER 1989 Irish International Championship