Wildwind's Neon Blue Voyager Finley - "Finley"
We are extremely proud to announce a new addition to Wildwind British Labradors.
"Finley"
Finley is a very nice young female from one of our own breedings.
Finley will produce some outstanding pup's of both Black and Yellow with the possibility of Fox Red. We couldn't be happier to have her.
Finley's Sire is FTCh Rockenhart Voyager MH - "Sam". Sam is an Irish field trial champion who came to the US in early summer 2009. Since arriving in the U.S. Sam has competed in AKC hunt tests and received his (MH) - Master Hunter Title. His good marking abilities and trainability helped ease the transition from European style competition to the American style. He is a kind easy going boy. He has the type of European temperament that everyone hopes for - a quiet calm dog in a setting with people and other things going on but giving 100% when asked to work in the field. Finley is just like her father in every way. Finley's Grandsire is 2X Int.FTCh Delfleet Neon of Fendawood - "Del". Del has been one of the top, most consistent young Field trial dogs in recent years, and is still going strong.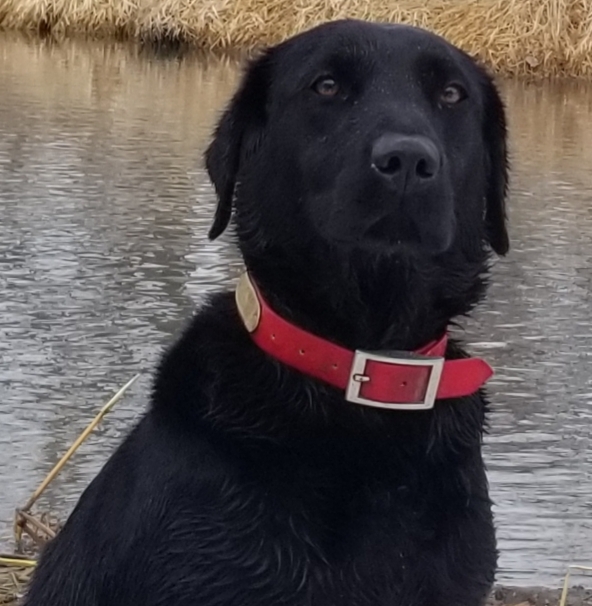 Del is a medum sized dog with a good strong head.
In 2010, he went from novice to champion in six weeks and a place at the I.G.L. Retriever championship hosted by Her Majesty The Queen at Sandringham December 7th - 9th.
In 2012, Del won the IGL Retriever Championship at Cawder, Scotland handled by owner David Latham. He also qualified at 2 trials and placed 2nd in very limited trialing that year.
Del's Sire is Int. FTCh Mediteranian Blue - "Blue". Blue is a strong well boned traditional type fox red labrador with a fine temperament.
Blue has represented England on many occasions in 2007, he was a member of England's winning team at Skinners World Cup Event. In 2008, Blue was on the winning English Team at the C.L.A Game Fair. Blue was also top individual labrador scoring 96 out of 100.
In 2009, CLA Game Fair international team test, Blue was a member of the English Winning Retriever Team. Blue also won the three ridings labrador retriever club 2-day open stake, qualifying him for his 4th retriever chamipionship.
Finley's confirmation is excellent, with a very attractive square head, broad chest, and extremely muscular feature's, making her an excellent example of a properly bred British Field lab.
Finley is a very well behaved, true Lady, with a nice thick coat, and the classic "otter tail". Her weight is 46 lbs. Finley's drive is as hard on blinds, as it is on marks, over land or water. Her laser like focus on the fall is unbelievable. Its hard to believe that such a high drive dog can turn it off, but Finley can. She is just a sweetheart around the house due to her quiet calm temperament. A perfect combination. Making her a great companion that is truely as "Enjoyable in the home, as she is in the field..."
Finley is an excellent game finder, and a pleasure to handle, and watch work. With her small size, it is impressive to see how much ground she can cover.
Finley's parents have both received a Normal/Clear PRA result from Optigen. Meaning Finley herself is clear.
AKC Reg. No. SR96462001
Eye Cerf. Normal #
Optigen - PRA-Normal/Clear by Parentage
Hips OFA -
Elbows OFA -
weight - 46lbs.

Sire
2xInt.FTCh Delfleet
Neon of Fendawood
2012 I.G.L. Retriever Champion

Sire
Int.FTCh Mediterian Blue
2007/2008 Winning English Gundog team

Sire
FTCh Endacott Shelf
Dam
Drakeshead Evie

Dam
Delfleet Dawn Flush
Sire
FTW Fintan Thor
of Westernash
Dam
Delfleet Golden Glory
Dam
Altiquin Joy
Blk

Sire
Int.FTChAltiquin Egan
Sire
FTCh Strong Blade
Dam
Knock Cunnier Elly

Dam
Altiquin Pride
Sire
FTChWillowyck Ruff
1st place 2007 British Champion

Dam
Int.FTChCarraigairt Abba