Wildwind's Whirlwind of Jasper - "Jasper"
We are extremely proud to announce a new addition to Wildwind British Labradors.
"Jasper"
Jasper is a wonderful addition, and fit's in well it the rest of the dog's, and with what we are trying to do with our breeding program.
Jasper's pedigree is traced back directly to the 1830's. When the 5th Duke of Buccleuch imported the first ancestral Labradors from Newfoundland and developed the beginnings of the Labrador breed. The Dukes of Buccleuch have subsequently maintained this original strain of Labrador Retriever and have bred over many years a superb game finding dog to supply the needs of their gamekeepers for their vast estates in Scotland. The Duke of Buccleuch's kennels are the only Labrador breeding kennel which has been in continuous operation since the introduction of Labradors to England in early 1800's.
Jasper will produce some outstanding pup's. We couldn't be happier to have her. We love everything about her.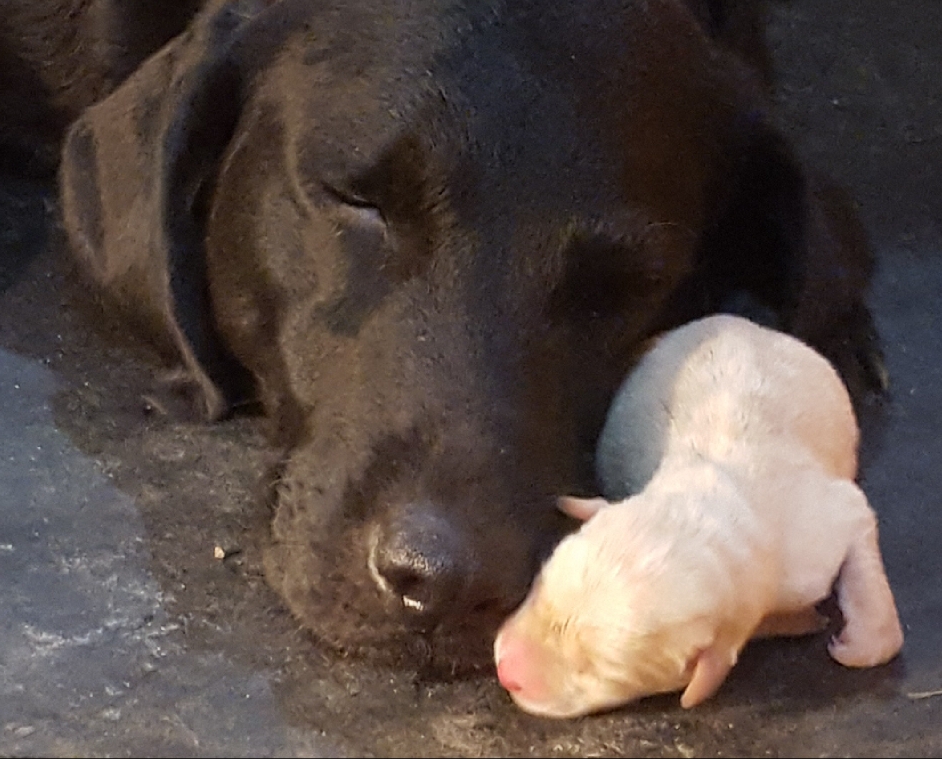 Jasper's confirmation is excellent, with a very attractive square head, broad chest, and extremely muscular feature's, making her an excellent example of a properly bred British Field lab. Jasper is a very well behaved, true Lady, with a nice thick coat, and the classic "otter tail". Her weight is 50 lbs. Jasper is a sweetheart around the house, due to her quiet, calm temperament. A perfect combination. Making her a great companion that is truely as "Enjoyable in the home, as she is in the field..."
Jasper is an excellent game finder, and a pleasure to watch work.
Jasper's parents have both received a Normal/Clear PRA result from Optigen. Meaning, Jasper herself is clear.
AKC Reg. No. SR78971504
UKC Reg. No. Pending
Eye Cerf. Normal #LR-
Optigen -
Hips - OFA
Elbows - OFA
Optigen -
E.I.C. - Clear by Parentage

Sire
Duckhill Boomer
Sire
Wildrose Jacob

Sire
Bonzer Black Adam

Dam
Wildrose Sweet Katie

Dam
Braidenvale Spinnimeade

Sire
FTCh Flashmount Socrates

Dam
FTW Barwestern Ebb
of Braidenvale

Dam
Tibea Moonflight
Sire
FTW Buccleuch Oak

Sire
Garedon Mark
of Pocklea

Dam
Buccleuch Gem

Dam
Campdenhill Avon
of Tibea

Sire
FTCh Endacott Soames
of Riversway

Dam
FTChWhittmill Eclypse
of Tibea